Sony just revolutionized the memory card industry by building the most resistant SD Cards that are not only waterproof and dustproof, but they no longer have that annoying write protection that no one ever uses.
Since SD Card came into the market they were appreciated for the fact that they are tiny and offer tons of storage, but on the other hand, they are pretty easy to lose, they feel cheap and brake in the worst possible moment. And speaking about braking, the part that often breaks and causes enormous problems is the write protection switch. Imagine being a professional photographer that after having a full day of shooting goes home to edit his photos only to realize that the switch broke in the lock position so he just lost an entire day of work that could've brought hin thousands of dollars. Moreover, many photographers often confront with extremely harsh environments in wich SD Cards can be easily damaged and the precious moments lost forever.
So Sony comes up with the perfect solution especially for professionals who need high transfer rates, massive storage, and to keep their data safe no matter what. Of course, the Sony Tough G Series comes at a price but you might be surprised that some other professional SD Cards that offer lower transfer rates and significantly less protection for your data can be even more expensive than this one.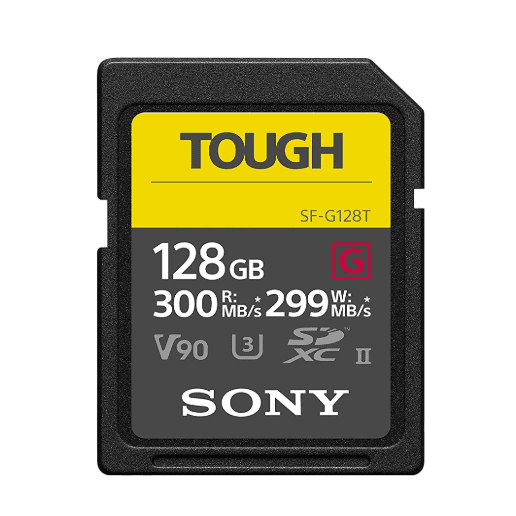 This is a one-piece molded SD Card made of hard plastic. Designed to withstand 108 Newton force, Sony states that it is 18 times stronger than a standard SD, so you will have to put in a lot of effort if you want to try braking this thing, which is great because now we can forget about all the flimsy cards that always seem to dismantle.
The one-piece design also allows for the Sony Tough G Series to be IPX6 Dust-proof and IPX8 Waterproof being able to stand for at least 72 hours at a 5-meter depth with no problems. Those characteristics are life severs in any kind of environment so you can drop your SD card in water, dirt, or mud as many times as you like just clean it very well before putting it back in the camera or card reader.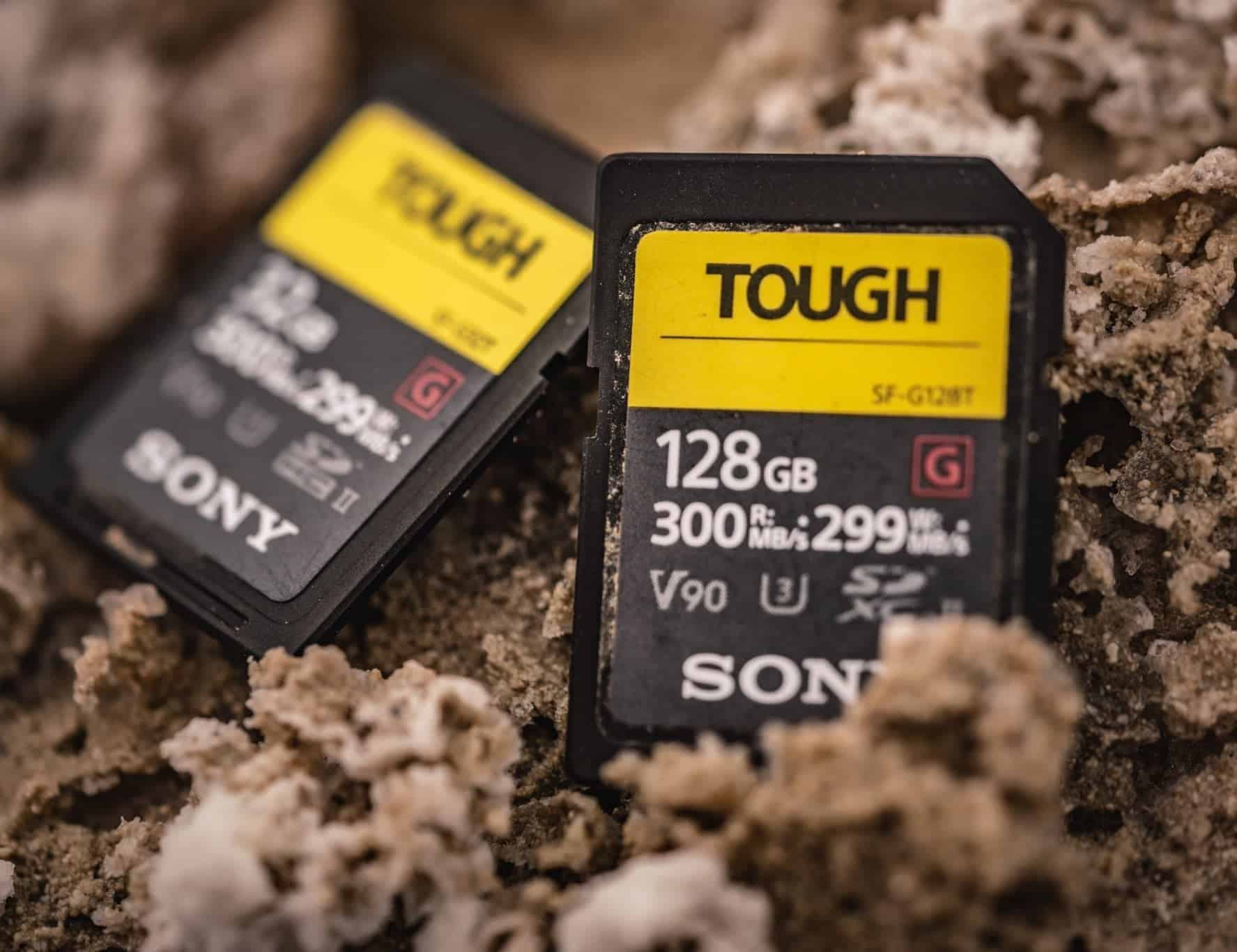 Furthermore, to get rid of any unwanted events, Sony got rid of the write protection switch that in time loosens or even brakes leaving you with a completely useless SD card in the worst-case scenario. To be honest, we have never used that switch but had problems in the past because of it, so thank you Sony for throwing it off!
The transfer speed with the Sony Tough SD is one of the best you can get with an SD card. It is a UHS-II card so it supports transfer speeds up to 300 MB/s and up to 299MB/s write speed 3. These fast writing speeds are perfect for 4K video recording and continuous burst mode shooting. It is Uhs-II, Class 10, U3 compliant but it is very important to state that it is backward compatible with UHS-I compatible equipment providing transfer and writing speeds not lover than 90MB/s.
At the moment this is the best SD card on the market. It is not cheap but quality never is and an investment like this can save you lots of time and money in the future so we highly recommend you the Sony Tough G Series, especially if you are a professional photographer.
At the moment, in terms of storage, you can choose between the Sony Tough 32GB, Sony Tough 64GB, and the large Sony Tough 128GB.