Solar power is available to all of us and it is a great way to reduce our impact on the environment while keeping our devices charged and running if we are willing to make use of it of course. But in some situations, solar power might be the only option available so we might be constrained to use it if we want to have electrical power. Spending lots of time in the great outdoors, camping or hiking may deprive us of our beloved outlets, that is why we need viable alternatives to charge our phones or other devices.
A Solar Power Bank is a great option when it comes to harvesting solar energy while you are on the go. This one is brought to you by a company called BLAVOR, which has made a name for making high-quality solar power banks over the years, and we are really excited about the features that it has.
This high capacity 20000mAh power bank has a very rugged design making it perfect for outdoor adventures. The entire device is made of hard rubberized plastic, while the corners have an extra layer of rubber making it shockproof. Also, the charging ports are protected against dirt and water by a rubber cap. The solar power bank in IPX5 Waterproof so it can withstand water splashes and rain.
Moreover, this power bank has a built-in compass which is great to have while being out in the wilderness, and also a very powerful flashlight which is extremely useful and can be a lifesaver in tough situations because it will always have power. The battery has 5 LED indicators that will show you how much power there is left inside and also will indicate the charging state of the battery.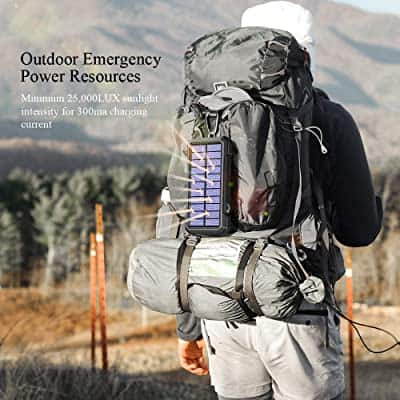 The solar power bank has two USB ports, one Quick Charge 3.0, and a standard USB port. Also, it has a Micro USB and a USB Type C port which can be used to charge the battery itself, but with a Type C to Type C cable, you can use the C port to charge your phone as well. This will allow you to charge your devices with up to 18W charging power, depending on how much power they can take in.
Furthermore, the battery is equipped with Fast QI Wireless Charging capable of delivering between 5 and 10W of power depending on the device you are using. For instance, if you have iPhone XR/XS MAX/XS/X/8/8plus it will charge with 7.5, and if you are using Samsung Galaxy Note9, S9/S9+, Note8, S8/S8+ you will get 10W while charging wirelessly.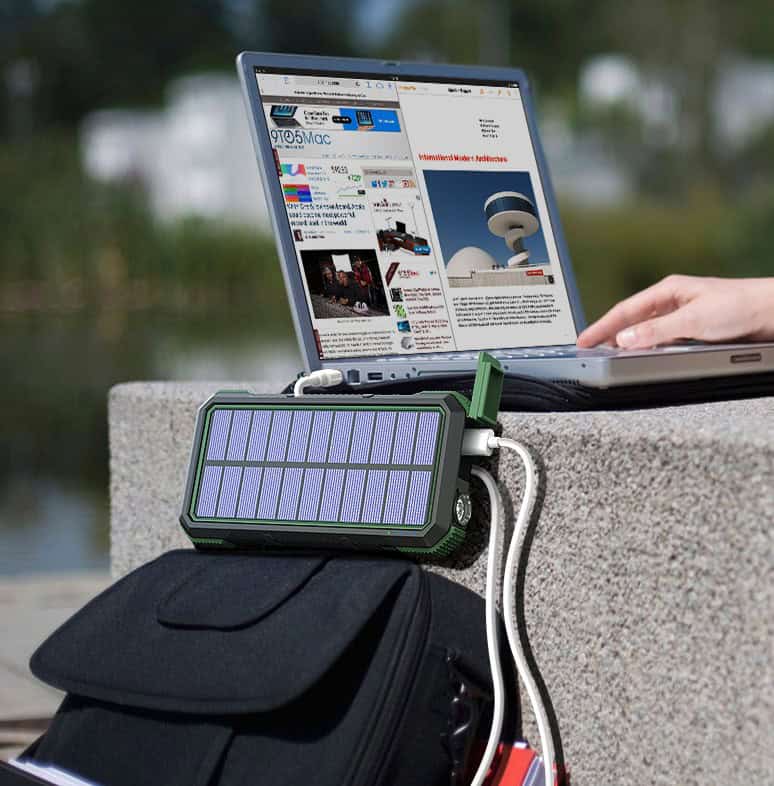 It is worth noting that this battery won't charge extremely fast while sitting in the sun because Max Solar Charging Current Input is 300MA so it is best if you keep it hanged of your backpack while hiking and as much in the sun as possible while camping to get the most out of it.
Overall, this is one of the greatest options when it comes to solar power banks and a must-have for outdoor enthusiasts.