Having a dual-screen setup is proven to increase productivity by 20 to 30 percent according to a report published in The New York Times. It can be a time and money saver when it comes to people that are in the design business, programming, video or photo editing, even data entry or research, and many other fields that require people to spend a lot of time switching between tabs.
We have seen many people using dual-screen setups at the office or at home, but lots of people are frequently on the go and mainly using a laptop to do their work, so there has to be a convenient solution for them to be able to benefit from a dual-screen setup no matter where they are.
Moving forward we will talk about the Mobile Pixels DUEX Portable Laptop Monitor which is one of the most practical ways to always have a secondary screen with you, but in the end, we will also showcase some alternatives to this product that some of you might prefer.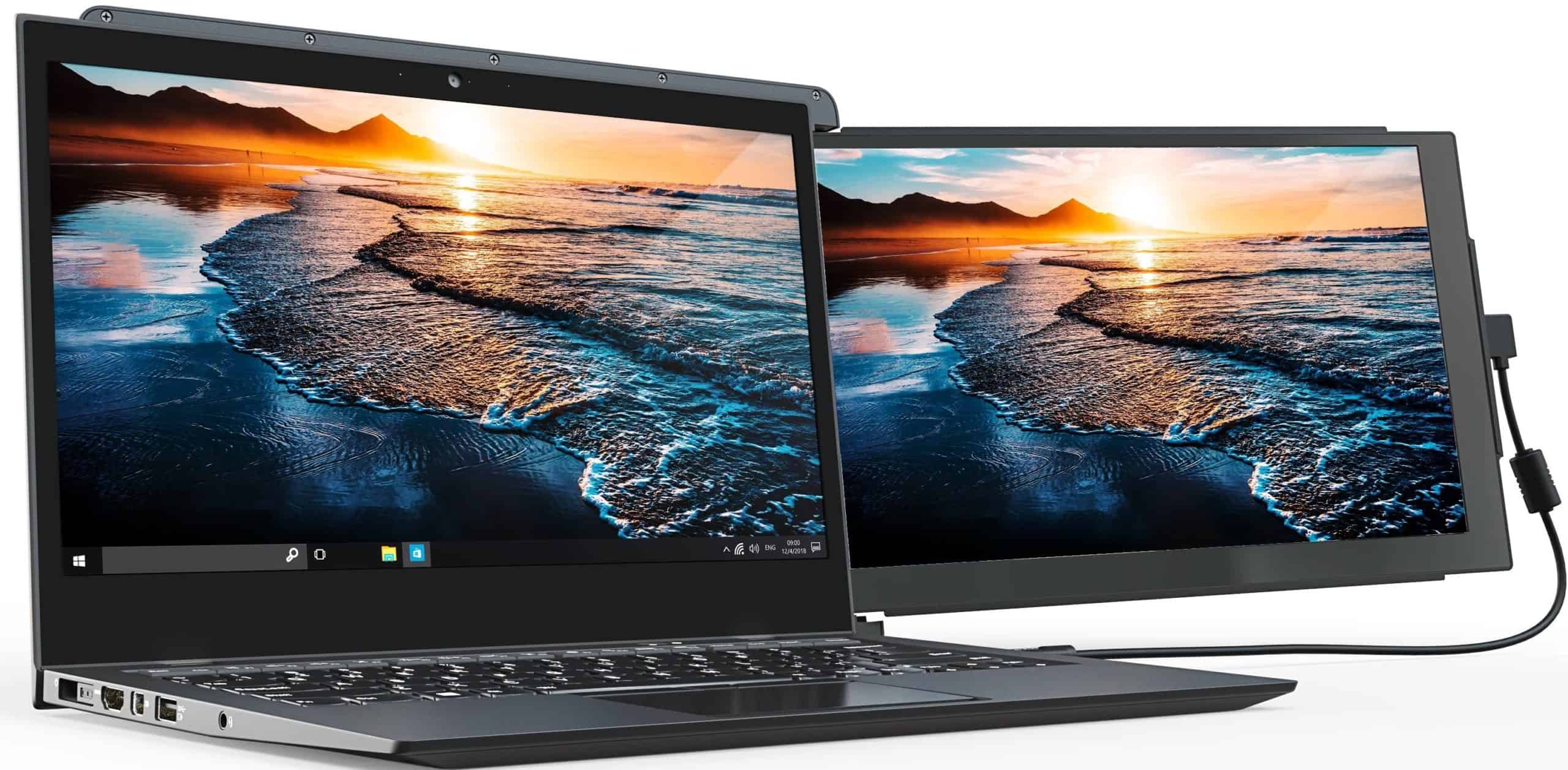 Although there are many other options for a secondary laptop screen coming from companies like ASUS or Acer for instance, this is one of the few that can be attached to the back of the main screen providing the ultimate portability experience.
The Duex Pro has e simple yet very functional design. Basically, it is composed of a frame that will be attached to the back of your laptop's screen using some pretty strong magnets to keep it in place and the screen that will slide out of the frame.
The screen also has a hinge mechanism so when it is fully out it can be tilted towards the user for a better view angle or it can be completely folded the other way for content sharing, which is great in case of presentations for example. Also, you can detach the display from the back of your laptop at any time, place it on the desk and use it in landscape mode if you want to.
The installation process is pretty simple and straight forward, and it is described very well on the package so no need to talk too much about that. After the Duex is attached to the laptop, the only thing you will have to do is to connect it to your unit using the cable that comes in the box, install the driver, restart your laptop and your good to go. One more thing that we want to point out here is that after the installation process Windows will automatically configure the Duex for mirroring mode so you will have to go into Display Settings and change that to extend mode.
We have mentioned that you will use the cable that comes in the box, and regarding this aspect, in the box, you will find two cables. One USB Type A to Type C and one that is Type C to Type C so you can choose the one that fits your needs the best, or better said your laptop's needs. So you will need only one cable for this setup which will provide both power and video output. The Type C output configuration is pretty interesting to see, as we are used to having HDMI for that, but it is somehow more convenient and it works just fine. Also, in the box, you will find three sets of metal plates just in case you have more than one laptop, so you can easily move the Duex screen from one unit to another.
The whole setup weighs 1.6lbs and it is 0.48 inches slim which is great for portability but it adds a bit of thickness to your laptop that creates no issues, you might just need to get used to it because it is a little trade-off for the increased productivity that you get by having such a device.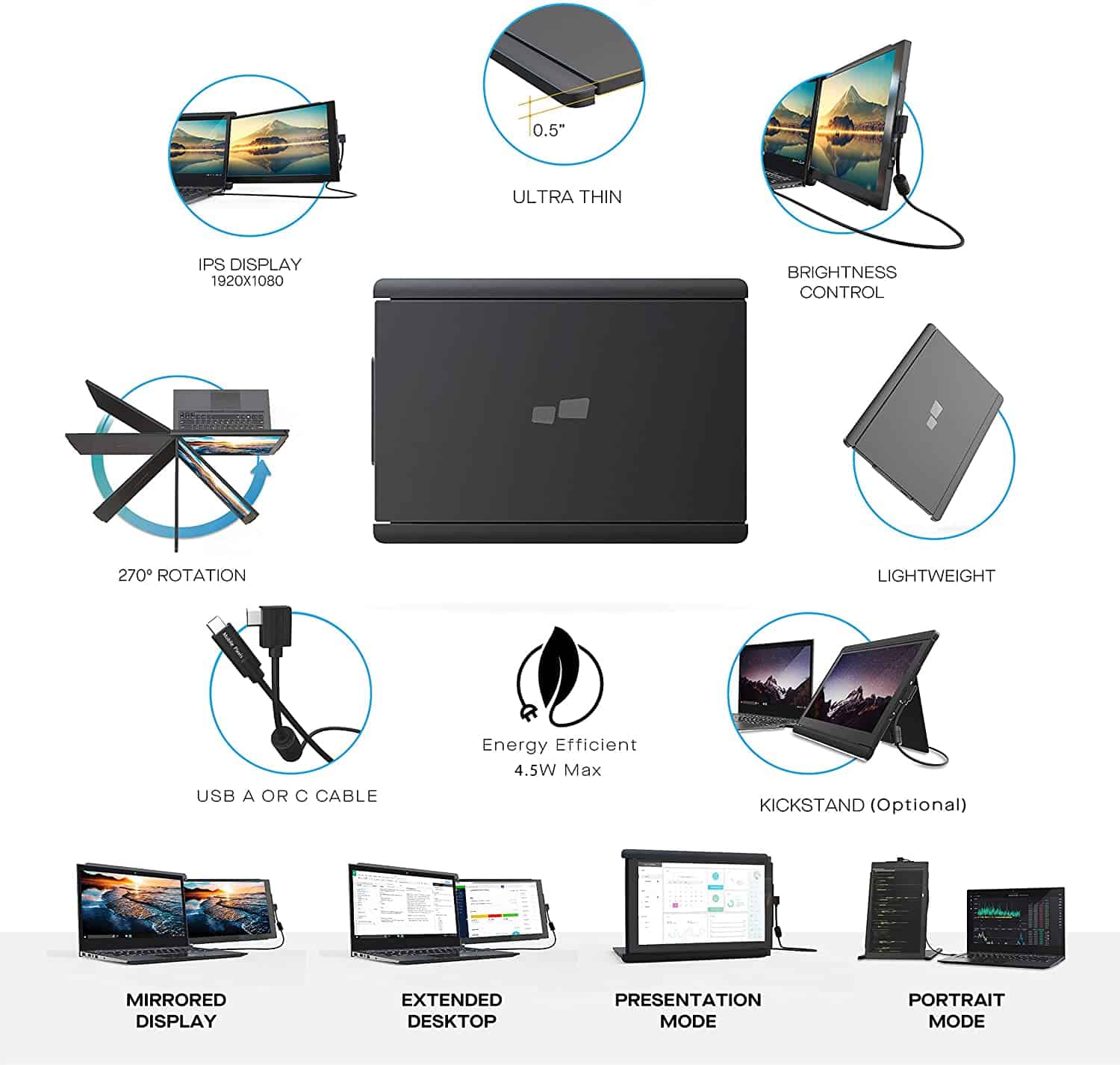 All in all, we are looking at a 12.5" FHD or 1080P IPS display with anti-glare and adjustable brightness, compatible with USB Type-C, Type-A, Windows, Mac, Chromebook or any other laptop that you might use, optimized for power efficiency and built with high-quality materials that can withstand the wear and tear that comes with transporting your laptop around.
The Duex even comes with a one year warranty and it is a great choice if you are looking for the ultimate portability when it comes to having a dual-screen setup for your laptop.
But as we said at the beginning you might want something different, maybe a portable display that is bigger, more stylish, with touchscreen or one that doesn't necessarily attach to your laptop. So we will list some of the best alternatives available on the market down below for you.