As in our today's society knowing how to code has become a precious skill which is extremely valued by big companies and individuals because it shapes the world around us every day, it might be a very good idea to introduce your children to the world of programming at an early age. Like any other language, the language of programming will be easier to learn and be assimilated by kids as they are extremely receptive and curious.
 This tiny robot is basically a learning tool that teaches children the type of logic that they need to learn how to code in a fun and interactive way so that they will develop this skill easily in the future, and why not, build a career around it.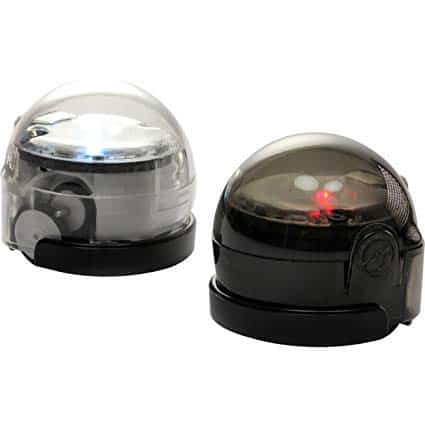 This is not the only toy of this kind on the market right now, but it is special for the fact that you can use only paper and some markers to program it. The Ozobot uses its sensors on the bottom to read colors and depending on the color combination drown along the lines of the track you want your robot to follow, it will perform different tasks like changing direction, rotating, going on full speed and many more. There is a list that contains a bunch of color codes that can be used to give life to this little robot.
You can use the Ozobot robot to create fun games or races that kids will love to engage in thus making the learning process a lot easier. The robots can be used by teachers in classrooms to help children use their imagination to create fun games and challenging activities that will enhance their logical reasoning. As the children advance in age and become better with these toys they can be easily introduced to blockchain programming as the robot can be programmed and controlled using a mobile app or the OzoBlokly Service(the blockchain programming software fount on their website).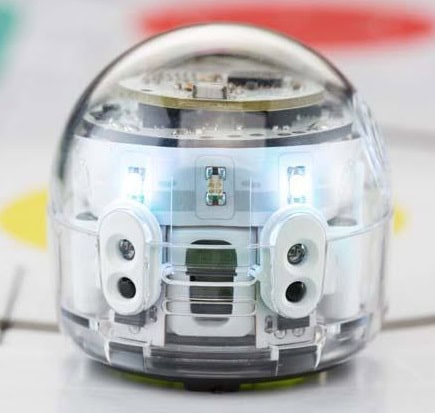 The possibilities are endless with this robot and the best thing about it is that you can use it right out of the box without the need to connect it to any device to set it up in any way. You just use the included markers to drow a track, turn the robot on, set it on the track and it is good to go.
Of course, it also connects to your phone and other devices through Bluetooth so you can control and program it that way, or via micro USB to your computer, so you can load custom programs built using the OzoBlokly Service.
This robot itself is packed with lots of techs, it's got a hard, polycarbonate shell, seven bright LEDs, micro USB for charging, built-in speaker, built-in Bluetooth, a bunch of sensors and you can use different skins on it to make it more fun for the kids.
In the box, you will find everything you need to get the Ozobot up and running in no time including instructions, the color code scheme, charging cable, the markers you need for drawing, some awesome stickers and depending on the package you order you might get some additional skins for the robot. There is also a variety of skins you can order separately and different kits you can choose from like the Ozo Starter Kit.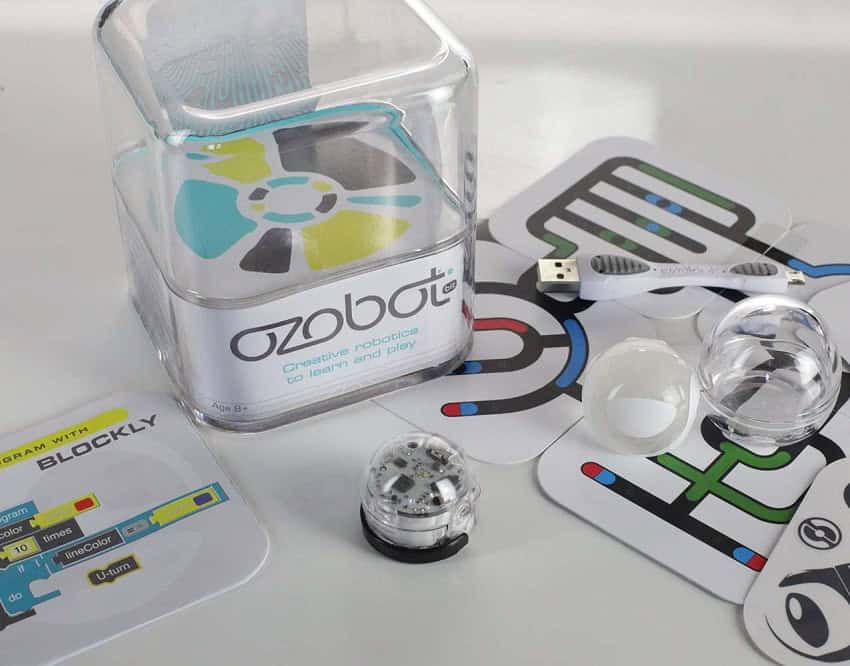 And to make things even better, on the official website there is the Education Center where you can find lots of easy lessons on how to program the robot, all the color codes, the OzoBlockly Service and also the Playground Center where you can find many interactive games for your child.
Overall, this little robot is one of the best ways to introduce your children to the world of programming in a fun and interactive way in which you can also learn a lot along with them. Technology is the future and it is right here, so let's help our children get a head start on the skills the society will ask the most from them. Considering how much fun and valuable knowledge this little robot can bring to your child, it might be the perfect this Christmas.