The DJI Mavic Air 2 has just been released bringing tones of new advanced features, a camera that everyone was craving to have on a drone this size for a long time, a complete redesign of the Mavic Air model, resembling more the Mavic 2 Pro, and a new controller. To be honest, DJI made us a very pleasant surprise with this one trowing in all the quality and pro features on a drone that comes at a price of $988, and here we are talking about the DJI Mavic Air 2 Fly More Combo, while the standard version is listed for $799.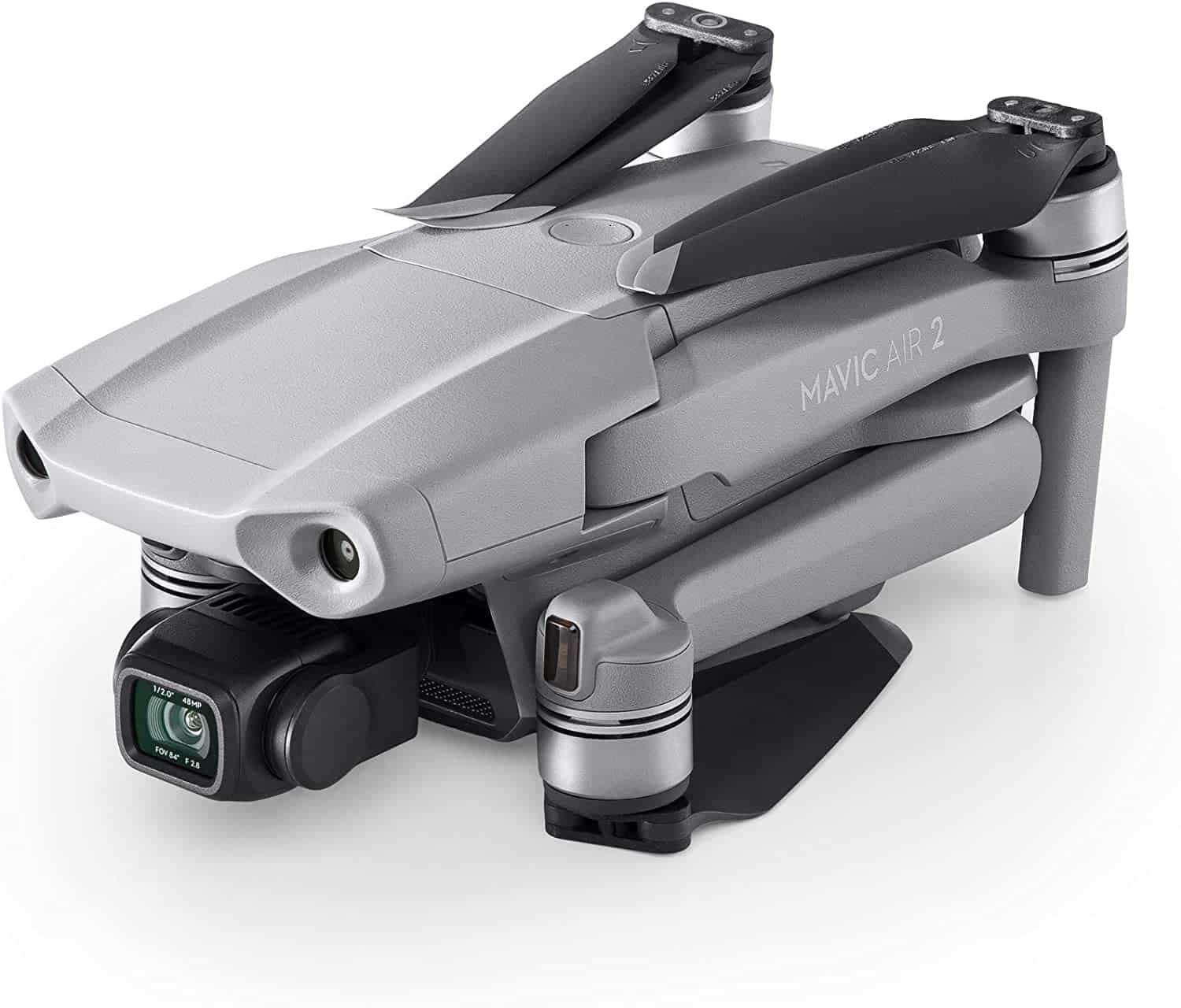 Compared to the previous model the Mavic Air 2 looks completely different. It seems like DJI decided to stick to the design that we are used to seeing in the Pro models but also at the DJI Mavic Mini.
The size of the drone is somewhere between the DJI Mavic 2 Pro and the DJI Mavic Mini. The weight has changed too, and now we are looking at a 570g drone compared to the previous model that had only 430g. This increase in weight may be attributed to the new camera module but also to the overall design of the drone and materials that are extremely high quality as always in DJI drones.
We must say from the beginning that the extra weight does not affect the drone's performance in any negative way. Actually, to be honest, having 140g more on a drone this size makes it more stable in case of winds. Also, no one has to worry that this will affect the flight time because DJI took care of that in a way no one was expecting.
The propellers have been redesigned too and now they have little tilts at the ends which reduce the noise produced by the aircraft.
DJI Mavic Air 2 PERFORMANCE
DJI has never played around with the performance of their drones, and the new Mavic Air won't disappoint anyone because now we are looking at a drone that has a maximum flight time of 34 minutes, a range of up to 10km, and a maximum speed of up to 42.5mph (68kph) in sport mode, 27mph (43kph) in normal GPS mode and 11mph (18kph) in Tripod mode. Also, the internal memory of the drone is 8GB, it has a USB-C connector for footage to be downloaded from the drone, and it can support Micro SD of up to 128GB.
The drone is equipped with OcuSync 2.0 that allows for a video transmission distance of up to 10 km and can also deliver 1080p FHD resolution live stream directly from the drone's camera. This can only be good news as having such video quality of the live stream can drastically increase our shoots.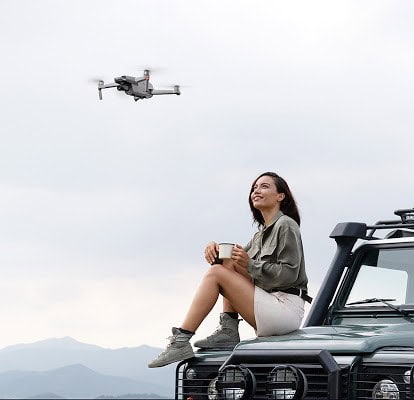 DJI has also enhanced the anti-interference ability of this drone with the new dual-frequency communication which increases flight safety in challenging environments. Mavic Air 2 supports both 2.4/5.8GHz and automatically switches to the best channel with the lowest interference in real-time.
The DJI Mavic Air 2 has sensors that can detect obstacles in three directions: forward, backward, and downward. Also, an auxiliary high power LED placed on the bottom of the drone brings light in your night shoots in a very convenient, way improves visibility, helps the sensors to function much more accurately during night flights, and makes landings easier. We would've loved to see one of these LEDs installed on a front arm too, so we won't have to attach Lume Cubes to our drones anymore, but maybe in a future model.
A new amazing feature is the Advanced Pilot Assistance Systems (APAS) 3.0 that utilizes advanced mapping technology which allows for obstacle avoidance capabilities never seen before and smoother following. Moreover, automatic flight planning has been dramatically improved, providing more options and increased safety.
Since drone pilots have to declare their flights to the NFA for the plain pilots to know of any drone that is up in the sky, it seems fair for the drone pilots to know in real-time if any plane ore helicopter is approaching. That is why DJI has created a new feature called AirSense, a technology that receives ADS-B signals from any aircraft, warns drone operators about aircraft in the area, and shows them their position on the controller. This is one of the most incredible drone safety systems we have ever seen, and we are so happy that consumer drones can now receive something like this.
DJI Mavic Air 2 NEW CAMERA
The camera of the DJI Mavic Air 2 brings a lot of amazing surprises. We are talking here about a 1/2.0" CMOS sensor that can shoot videos 4K/30 frames per second at 100 Mbps and 12MP stills. Also, this new sensor can shoot slow-motion videos in 4K/60fps at 120 Mbps, and if you lower the quality to Full HD you can even record super slow motions up to 240fps. Moreover, the Mavic Air 2 camera can capture impressive 48MP photos and offers an ISO range between 100 and 1600 in auto and up to 3200 in manual mode. This is even better than the Mavic 2 Pro.
The Mavic Air 2 is capable of shooting incredible HDR video as you have never seen before thanks to a Quad Bayer image sensor that separates exposure levels in different areas of the frame to capture details more accurately and create colorful, balanced, and eye-catching footage with high dynamic range. The SmartPhoto feature combines scene recognition (intelligent recognition of five categories: sunset, skies, grass, snow, and trees), the HiperLight function that produces noiseless low-light images and HDR, into a single-mode for astonishing results. Also, Mavic Air 2 offers an HDR Panorama mode, with a higher dynamic range and colors that are vivid and incredibly accurate.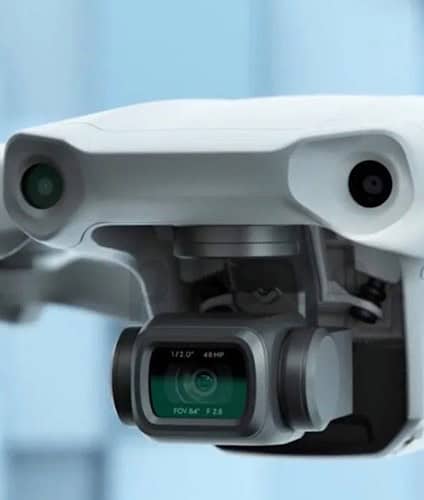 Besides being able to capture cinematic video clips automatically with the QuickShots function that provides modes like dronie, circle, helix, rocket, boomerang, and asteroid, the Mavic Air 2 is equipped with FocusTrack that helps anyone create professionally looking cinematic shots. FocusTrack includes modes like Spotlight 2.0 (found only on the high-end DJI Inspire models), Active Track 3.0, and Point of Interest 3.0.
Mavic Air 2 supports Hyperlapse in 8K, which can provide breathtaking footage without complex post-processing. You don't even have to spend too much time controlling the drone during these shoots, just choose from Free, Circle, Course Lock, and Waypoint modes, select the shooting location, and the DJI Fly app will do the rest.
New features deserve a new app so along with this model DJI has launched its new DJI Fly App available for Android and IOS.
DJI Mavic Air 2 CONTROLLER
The controller is the one that suffered a complete redesign and now it is the best one DJI has ever made. Although it is bigger which is a minus when it comes to storage and transportation, the new drone controller has a battery life of up to 240-Min, it has a new phone attachment system that works using a spring-loaded top-mounted cradle which is big enough for any phone and a much simpler cable system stored inside the controller.
The joysticks are removable and can be stored inside the controller and all the buttons have been repositioned for a much better reach. And now finally we have the USB Type C Charging for the controller.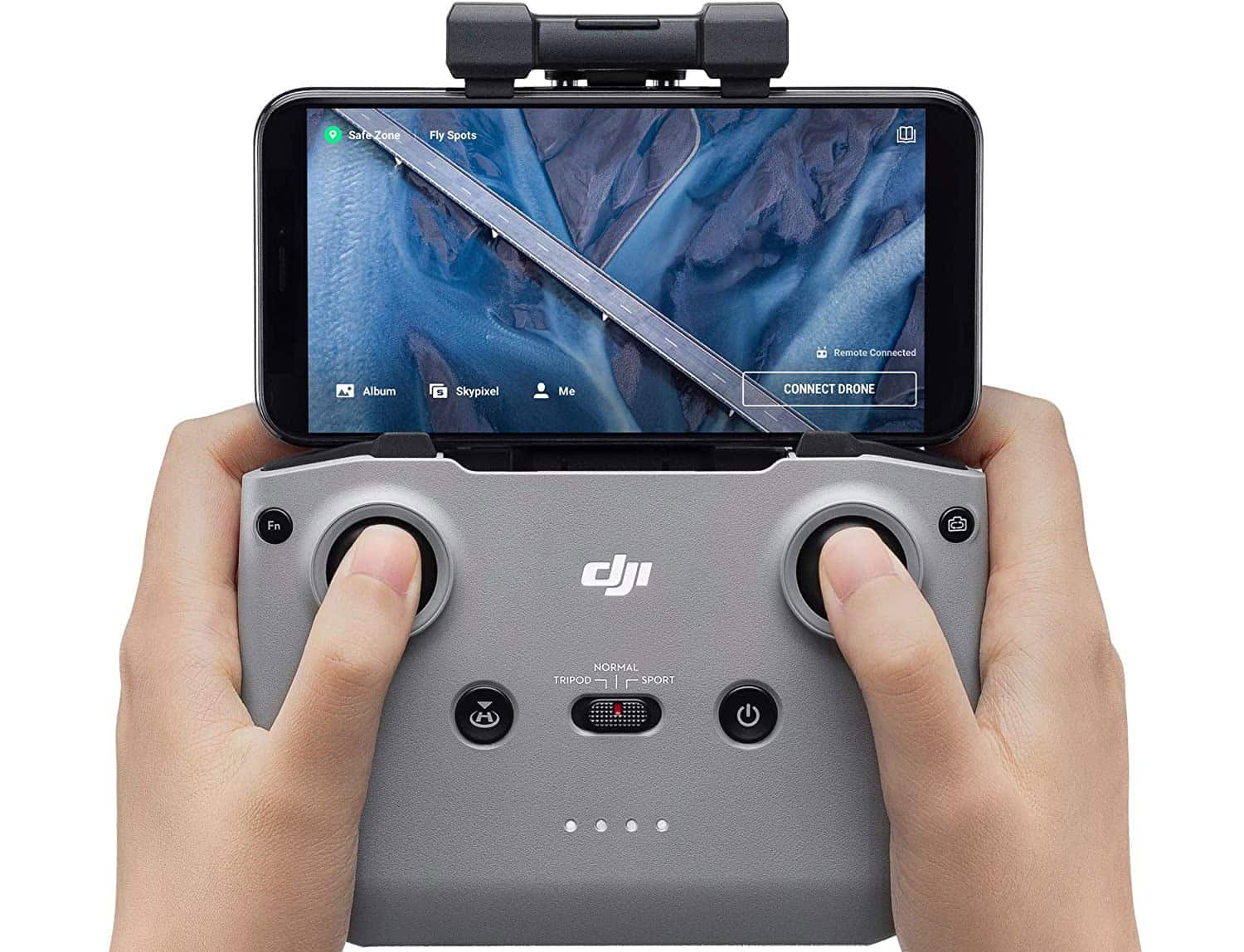 At this price, the package is the reachest DJI has ever put together. In the standard one priced at $799, you will find the Mavic Air 2 Aircraft, the Remote Controller, 1 Intelligent Flight Battery, 3x Low-Noise Propellers (Pair), RC Cables (USB Type-C, Lightning, Standard Micro-USB), Control Stick, Gimbal Protector, Battery Charger, Manuals, AC Power Cable, Type-C Cable.
The Fly More Combo package that costs $988 will include the Mavic Air 2 Aircraft, the Remote Controller, 3 Intelligent Flight Battery, 6 Low-Noise Propellers (Pair), RC Cables (USB Type-C, Lightning, Standard Micro-USB), Control Stick, Gimbal Protector, Battery Charger, Battery Charging Hub, Battery to Power Bank Adapter, Shoulder Bag, ND Filters Set (ND16/64/256), Manuals, AC Power Cable, Type-C Cable.
With all these incredible new features we must admit that DJI has found the perfect way to fill the gap between the DJI Mavic Mini and the Mavic 2 Pro with a drone that also comes at a reasonable price and exceeds any expectations.