When you buy an Apple watch, it comes with an original magnetic charging disk that gets the job done, but in many cases, it is pretty inconvenient to use and to carry around. It is time to go a step further and upgrade to a new, easier to use compact design.
 This pill-shaped wireless Apple watch charger has the size of a USB stick that you can take anywhere with you, especially while traveling, so you won't have to worry about your watch running out of juice.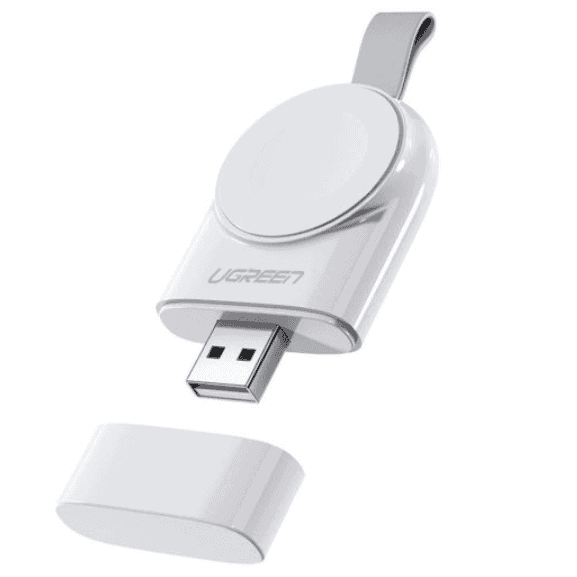 The Ugreen MFi Certified Apple Watch charger has a beautiful design, made of flame retardant, high-quality material. Portability is the most important thing about this charger and some people even chose to hang it on their backpacks or the keychain.
This device functions exactly like any other iWatch charger. You simply plug the Ugreen charger into any device that has a USB port and place the watch on the inductive magnetic charging disk on the top. This qi Apple watch charger can be used with any car charger or using your power bank. Also, thanks to the included silicone ring that can be mounted at the base of the pill you can safely place the watch vertically without worrying that it will fall from the magnetic pad.
It delivers a 5-volt, 1-amp output that will fully charge your watch in less than two hours and is compatible with any Apple Watch series (1, 2, 3, 4, 5) but it can not be used with other smartwatches on the market. It is specially built for Apple users.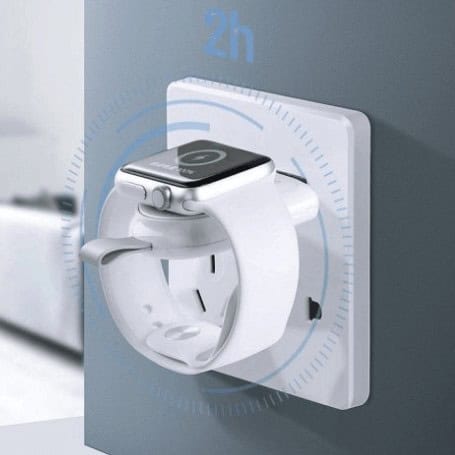 You are probably wondering what MFi Certified stands for. MFi Certified means that the product has been tested and approved by Apple and can be safely used without any risk of damage thanks to built-in over-current, over-voltage, short-circuit and over-temperature protection.
Unfortunately, this is just a simple magnetic charger but you can go a step further and buy the MIPOW Portable Wireless Charger with built-in (6000mAh) battery that can charge your watch and your phone on the go.
UGREEN has built a reputation for making some high quality and nicely designed phone accessories that match perfectly with the Apple-style for a lower price.