When choosing a pair of true wireless earbuds you want them to offer you the greatest features like, good sound quality, good battery life, water resistance and stability for the ones who want to use them in the gym or while running. This pair of true wireless earbuds I am presenting to you today embraces the idea of sports and it is a big competitor in the market for brands like the well known Bose SoundSport. 
 Under Armour  by JBL is the best choice for sports but also for any other activity thanks to their rough premium design which I personally love. 
 Being engineered by JBL, the sound is amazing, exceptional, everything you could wish for I can say, and the fact that they are produced by Under Armour provides the best build quality by far.
 They have a rough and also premium look being made out of very resistant materials.
 They might look rough but they are pretty light weigh and look sleek enough in your ears. The case may seem a bit bulky but it is ok considering the battery life and it's resistance and built quality. 
 Speaking about the case, the earbuds are hold inside it by very strong magnets so they won't fall out when you open the case.
 These wireless earbuds are very comfortable and secure so you won't encounter any discomfort or dropouts thanks to the additional ear-wings which keeps them locked in your ears. I also love the look that that rubber on their side which also ads a better grip to them.
 The "H" signs are actually the clickable control buttons which are pretty easy to push.
 Auto-paring is a great feature that those include so by the time they are in your ears they have already pared to your device. They can also work with any assistant.
 The earbuds have built-in microphone and to be honest the phone call quality is good considering that they were designed for sport. Oh, and they also feature mono mode.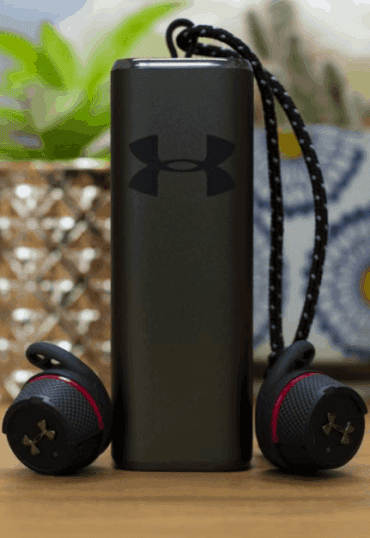 The features JBL provides are numerous and I think that they can satisfy almost everybody. I really appreciate things that are made to be  serious and resistant and Under Armour really managed to earn my respect with this awesome product.
 JBL's set of true wireless earbuds comes with Bluetooth 4.2, it is not the latest technology but it gets the job done so you wont experience any lag or interruptions.
 The battery life is very good with 5 hours of playtime per charge and 20 additional hours with the case.
 I said that those are very resistant and they are till the and. These earbuds are IPX7 Rated so they are totally water proof and dust proof.
 The only downside I have noticed is that they don't have volume adjustment on the earbuds so you will have to press the buttons on the phone, which is not such a big deal
 JBL also added two more features that I really love and I think you will love too:
 Talk-Thru technology that drops music down and turns on speech-optimized, noise-cancelling mics so you can easily talk with someone between sets without removing your headphones.
And thinking to our safety JBL lets us chose between noise-cancelling and Ambient Aware technology which allows you to continue to listen to your music during your workout, but still be aware of your surroundings.
 I am impressed and taking into consideration all of those great aspects that Under Armour by JBL brings to us I really think that they worth the money even if they might seem pricier them the other ones. For this price you also get a 1 year log subscription to MapMyRun which is a good 30$ bonus. And if there are people who find the too price I can suggest the wired alternative to those which is cheaper but has the same quality an feature > Under Armour JBL Sport Wireless React  or even JBL UnderArmour Sport Wireless in-Ear Headphones with Heart Rate Monitor (Black).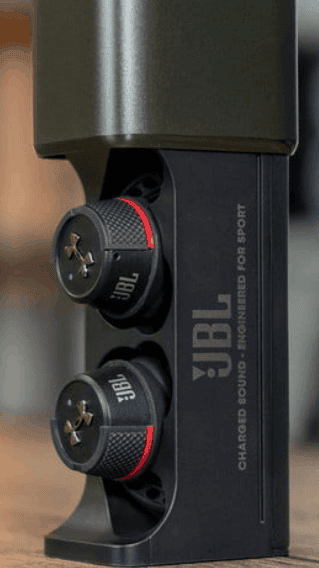 The Good
Amazing sound quality
Very Comfortable
Very good battery life
Talk-trough technology 
Ambient-aware technology
IPX7 Rated
Noise-cancelling and isolation
The Bad
No volume controls on the buds.