Many people enjoy running or cycling at night, but with so many distracted drivers on our roads, it has become really dangerous to do so. Sadly, there are hundreds of accidents involving cyclists or runners all over the country and that is both the fault of drivers who are not cautious enough and also of the people who neglect using proper illumination, a reflective vest and in most of the cases can't even hear as they're headphones are on full volume.
 We should all keep in mind that our life is our responsibility in the first place and take the proper safety measures to be safe while running around the city at night. To help with this we will talk about the Tracer 360- Illuminated & Reflective vest, a simple yet ingenious product that will make you much more visible for drivers if you are on the road at night.
Furthermore, while researching this gadget we have also discovered that there are many other products designed to keep sports lovers safe at night, so we listed them for you at the end of the article.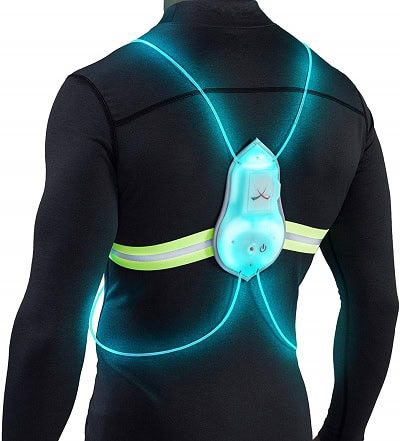 In most cases, a simple reflective vest can be enough to make yourself visible on the road, but this illuminated vest was designed with the help of visual science to make you stand out in the dark under any circumstances. It is pretty hard not to see a person glowing like a Christmas tree on the road right? 
 The luminescent tubes that wrap around your body provide multicolor illumination making you visible from every direction. On your back, you will wear the lightweight illuminated unit that powers the entire system and clips around your waist with the help of a reflective strap.  
 The entire safety vest is made of good quality lightweight materials at only 7.0oz. The unit that comes strapped on your back and illuminates the fiber optics going around your body has two buttons, one for power and the other one for changing the illumination modes. You can select between multiple flashing modes inspired by visual science or you can select individual solid colors, in each case the vest making you extremely visible for drivers.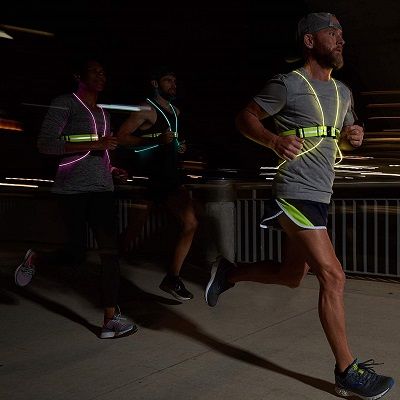 While running outside you can always be surprised by rain so the vest is rain and sweat proof. Also, healthy habits like running or cycling don't care about the season so the vest can be adjusted to fit any kind of clothing you are wearing. It will always stay tight and secure without bouncing. 
 One thing we didn't like about this illuminated vest is that it is powered by 3 AAA batteries so it is not rechargeable unless you buy 3 rechargeable batteries and charge them separately in a battery charger. But, to sweeten this little inconvenient, the vest will last up to 40 hours with a single set of batteries. In case you are using it for a night marathon as we saw that those are becoming more and more popular, you should consider having extra batteries not only for your vest but also for a headlamp that you might be using.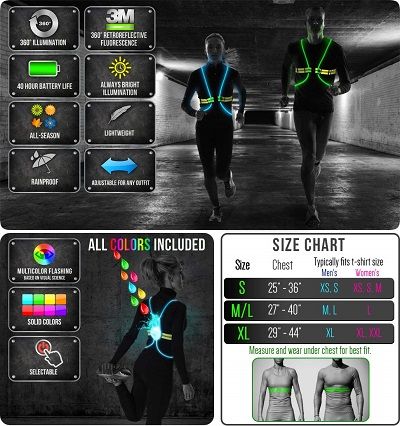 Overall, the Trace360 Illuminated Vest is a great device that will make your night runs a lot safer. Now let's take a look at the other products that will make sure you stay safe at night under any circumstances.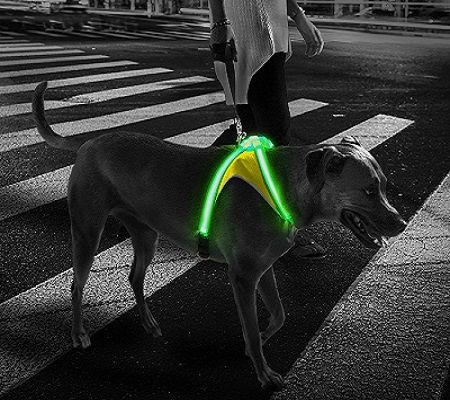 Illuminated and Reflective Harness for Dogs
 As many people run along with their dog, on the same principle as the illuminated vest, this harness is made to keep our loved companions safe around at night. This time, our quadruped friends are a little luckier as the device designed for them is rechargeable.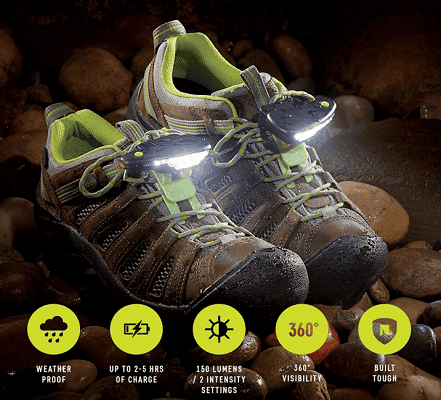 Night Runner 270 Shoe Lights
 Those innovative running lights attach to your shoelaces to provide 270 degrees visibility while you running so you always see in front of you and most importantly what you are stapping on. They also have a tail light so you can also be visible from behind. The man who came up with this product is a passionate runner and the idea came to him after he stepped into a poot hole while running at night and broke his leg.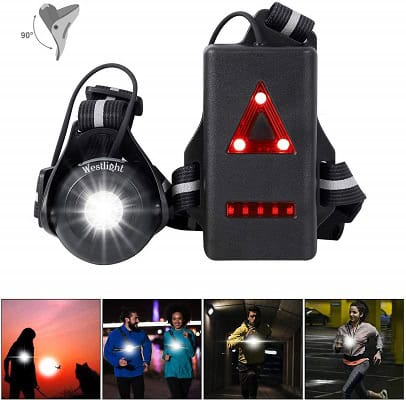 Running Light Reflective Gear
 This running light is also perfect for night jogging or dog walking making you visible from two sides and providing tons of light for you to see any obstacle. It is waterproof, rechargeable and it has 500 Lumens.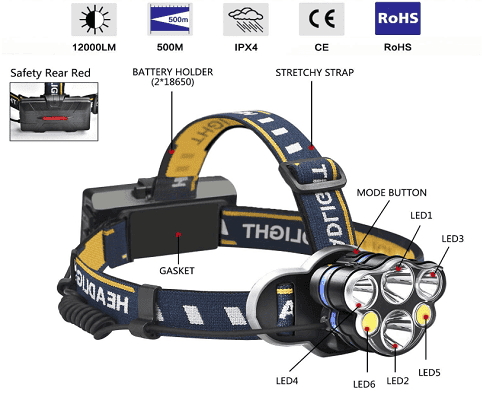 12000 Lumen 6 LED Rechargeable Headlamp
 This headlamp is perfect for any dark situation not only for running but the fact that it has a red tail light makes it very good for running as drivers can see you easily from behind. It is rechargeable, waterproof and it has 6 high-power LEDs providing 12000 Lumens. If you want something smaller, here is a great alternative that is also rechargeable and uses gesture controls to switch between lighting modes > Gesture Control Headlamp.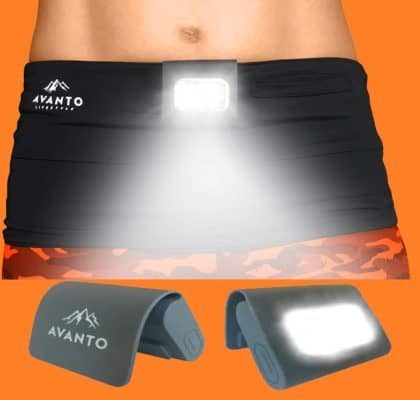 AVANTO Clip On Running Light
This is a reliable lamp to take with you anywhere. It attaches to anything using strong neodymium magnets so you can clip it directly on your clothes and it will stay secure, it is USB rechargeable, has 9 LEDs and it is fully waterproof.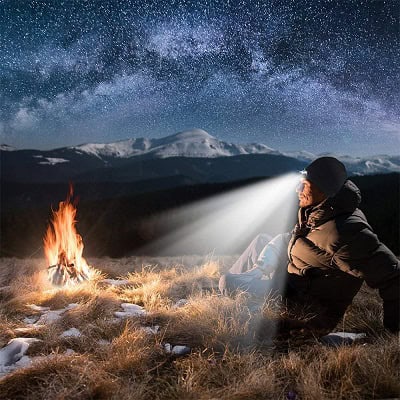 This cap has two powerful LED mounted in the front providing visibility up to 22ft with the push of a button. It is perfect for any situation and it will also keep your head warm.