Under the waves is a completely different and spectacular world that is really worth exploring. With Trident Underwater Scooter you can now explore the world underneath the waves without too much effort, you can go as deep as 164 ft and also record your experience and capture amazing footage.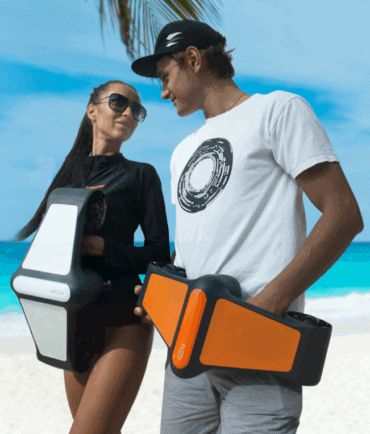 This underwater scooter is made by accompany named GENEINNO and it is one of the best on the market . Trident is pretty much everything you need as an amateur diver, a kid or even as an experienced one to help you explore the depths of the ocean.
 Unlike other underwater scooters, Trident comes with a friendly price tag without making any compromise in terms of performance an quality.
 It has a unique design inspired from the B2-Stealth Bomber which allows it to advance easily trough the water and also looks awesome. Speaking of design, the scooter is pretty compact and it was specially made to fit in a travel case so you can take it with you in any of your trips, even if this means travelling by plane.
 You don't need any experience at all to control the scooters because you just have to press the tow buttons on the handles and you're good to go. It also has a button that allows you to adjust the power output in case you want it to be safer for your kids. Speaking of safety, you don't have to warry about loosing the scooter because it can float!
 Trident is equipped with dual powerful propellers combined with a smart battery optimization algorithm, delivering a propulsive force up to 12 kg.  The dual thrusters provide up to 26 lbs of power reaching a maximum speed of 4.3 miles.
 The long lasting 14oWh removable battery will last you up to 45 minutes of usage. Even with this large battery the weight of the scooter is 3.7 kg.
The best thing about the Trident scooter is that it has a GoPro mount built into the front side so you can easily attach your camera to film the awesome underwater world.
 So if you are searching for a new kind of underwater experience the Trident Underwater Scooter is an awesome and fun way to explore the ocean.